Listing  Carlsbad homes for sale at the right price is crucial to their eventual sale.  Follow the tips below to maximize the chances of selling your Carlsbad propery.
If you want to sell quickly, your asking price should be very near the correct fair market value.
If your Carlsbad home is listed at a price that is above market value, you will miss out on prospective San Diego North County buyers who would otherwise be prime candidates to purchase your Carlsbad home. If you list at a price that is below fair market value, you will ultimately sell for a price that is not the optimum value for your North County home.
By pricing your Carlsbad property at market value, you expose it to a much greater percentage of prospective San Diego buyers. This increases your chances for a sale while ensuring a final sale price that properly reflects the market value of your North County home.  Generally, the price should not exceed the value by more than 5% or potential buyers may not even make offers.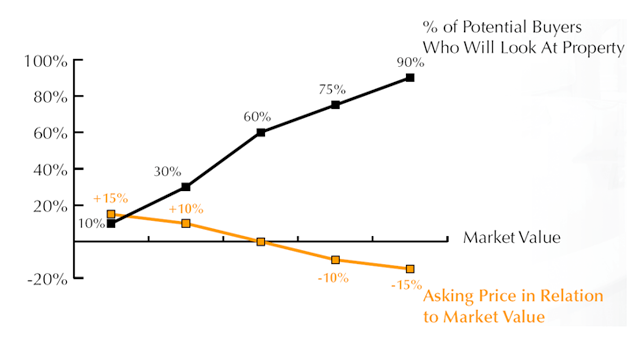 For example, if you price your Carlsbad home at fair market value you will get 60% of Carlsbad buyers looking at your home.  If you price your Carlsbad home 15% below fair market value, you would get a potential of 90% of potential Carlsbad buyers look at your property.
Here are a few things to keep in mind about pricing:
Realistic pricing your Carlsbad home will achieve maximum price in a reasonable time.
Your cost or profit desire is irrelevant; the San Diego North County real estate market determines the price.
The cost of improvements are almost always more than the added value.
Carlsbad houses that remain on the market for a long time do not get shown.
A Carlsbad house that is priced right from the beginning achieves the highest proceeds.
To price your Carlsbad home correctly you need professional real estate help.  Contact Gary Harmon, your Carlsbad Real Living Lifestyles Realtor.  Gary will provide you with a comparative market analysis of your home.  You will no longer need to guess.  With proper pricing, your Carlsbad home will sell fast and for the most money.