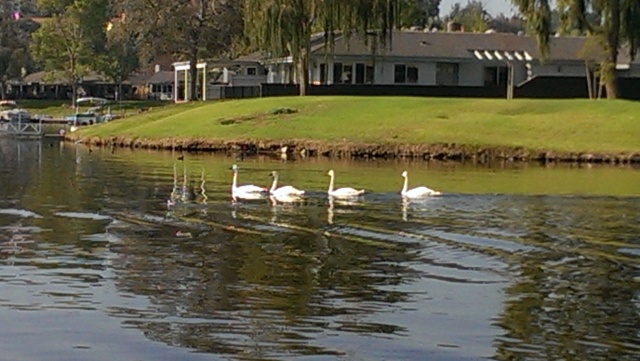 Four new swans arrived at Lake San Marcos on Friday afternoon. Their arrival was bitter sweet. These swans were purchased as a living memorial to long time resident Ken Beall. Ken was a well loved man around Lake San Marcos and was the editor of our community newsletter, Quail Call.
These trumpeter swans, largest waterfowl in America, join the many other beautiful swans that call Lake San Marcos home.  These new swans, two pair, are easily distinguished from the other white swans on the lake by their black bills.
Last year one pair of the Lake's black swans had 4 babies which quickly and amazingly grew to adult size.  We now have 8 beautiful black swans.  By the way, the black swans have red bills.
If you decide to feed the swans, please do not use bread.  There is a vending machine where you can buy food for 25 cents right near the marina.  This is not to raise money, but to protect the health of these magnificent animals.