As your North County Realtor, I constantly strive to give you current, relevant, and San Diego North County real estate related articles.  It is always nice to be recogonized for hard work and I would like to share this award with you.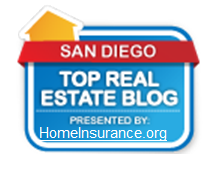 Winner's Badge
"Congratulations on being one of our Top Real Estate Blogs in San Diego, CA. Your blog was a great resource that keeps your readers up to date on the latest real estate trends in your area. Understanding the housing market and all of its intricacies is hard enough, but you do so with ease and present the information in a wonderful manner through your blog. As part of our thanks, please accept this badge to place onto your blog. It not only signifies your win, but lets your readers know that your blog was recognized as a Top Real Estate Blog!" 
Understanding all the aspects of the San Diego North County housing market, knowing all of the factors that go into buying and selling a North County home, and understanding how your neighborhood can drastically affect prices, results in a plethora of information. And if it isn't your career to understand these things, trying to research this on your own is a daunting task. That's why I have decided to write my blog: http://www.GaryHarmon.com and to offer one of San Diego's best websites: http://www.HomeInfoSanDiego.com.  I strive to discuss issues important to San Diego North County real estate.  I also provide a great deal of consumer information relating to San Diego North County. So what better resources to tap than this blog and website for all the information that you need to make an informed decision about anything regarding North County real estate, from when to buy, when to sell, and how to insure.
To find out more about the great San Diego North County housing market, contact Gary Harmon, your top North County Realtor.  
Gary specializes in San Diego North County homes including:  Carlsbad homes, Oceanside homes for sale, Encinitas homes, Vista, San Marcos, and Escondido real estate.  Gary Harmon also specializes in San Diego North County homes for over 55 seniors.  North County Homes for Over 55 (55+) covered on this blog include  Oceana homes, and Emerald Lake Village (all in Oceanside). Other homes included are Rancho Carlsbad homes (Carlsbad), Oaks North homes and Seven Oaks homes (both in Rancho Bernardo).Ocean Hills Country Club homes.