Below the photo is a summary of current real estate conditions in San Diego North County.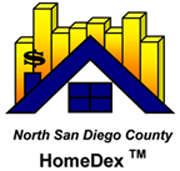 • The median price for all North County home sales – attached and detached – increased from $358,000 in February 2011 to $393,500 in March 2011.
• Detached homes in North County rose 7.82 percent from $417,500 in February 2011 to $450,165 in March 2011, the largest monthly price increase in the past 12 months. Year-over median single-family detached homes in North San Diego County declined four percent, from $469,000 in March 2010, the second month of year-over declines following an 18-month trend of increases in median price (with the exception of August 2010).
• The number of single family detached North County listings (active and contingent) increased 3.93 percent to 4,626 ending March 2011, the third monthly increase. Year-over listings increased by 14.11 percent from March 2010.
• The number of sold North San Diego County SFD homes jumped 50 percent from February 2011 to March 2011 and increased 4.72 percent year-over from March 2010.
• Median days-on-market for single-family detached North County homes decreased from 69 days in February 2011 to 58 days in March 2011.
The above information on San Diego North County real estate was furnished courtesy of the North San Diego County Association of Realtors.   To get more San Diego home information, contact Gary Harmon, your San Diego North County Realtor.