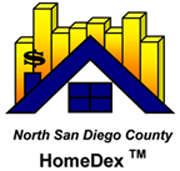 The March 2012 HomeDex™ Report provides February 2012 San Diego housing statistics. Information in this report is used by permission from the North San Diego County Association of Realtors® (NSDCAR). Gary Harmon, your Real Living Lifestyles Realtor, has been a member of NSDCAR for over 22 years.
• The median price for all San Diego North County home sales – attached and detached – increased to $357,500 in February 2012 compared to $344,500 in January 2012.
• North County detached homes increased 3.75 percent to $415,000 in February 2012 compared to $400,000 in January 2012. Year-over median price of San Diego North County homes was stable with a small 0.6 percent fall compared to the $417,500 in February 2011.
• The San Diego countywide median SFD price increased 3.12 percent in February 2012 to $359,900 compared to $349,000 in January 2012.
• The number of San Diego North Country homes – detached listings (active and contingent) have remained steady through early 2012, decreasing just 0.92 percent from January 2012 to February 2012.
• The number of sold North San Diego County homes – detached units increased 20.37 percent in February 2012 compared to January 2012 (after a 32.21 percent fall last month), and jumped 27.13 percent year-over compared to February 2011. Each of the last four months experienced double-digit year-over increases in home sales.
• Median days-on-market for North County single-family detached homes sold decreased to 66 days in February 2012 compared to 68 days in January 2012.
by Gary Harmon
[idx-listings city="Carlsbad" propertytypes="335″ orderby="DateAdded" orderdir="DESC" count="25″ showlargerphotos="true"]