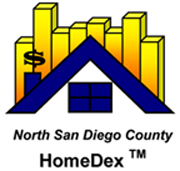 In the last post, I reviewed with you the sales trends for San Diego County homes over the last few years.  This blog will be more specific and focus on just San Diego North County.
The median price for all San Diego North County homes  increased 5.19% in June 2010 to $425,000.
The median priced of single family detached San Diego North County homes increased 0.73 percent to $479,975 in June 2010. This was the fifth month of median price increases and the highest median price reported since the summer of 2008.
Year-over-year median single family detached homes in San Diego North County increased 15.66% from $415,000 in June 2009. This was the eleventh straight month of year-over price increases.
Median days on market for San Diego North County homes was 39 days in June 2010.
The number of North County single-family homes sold decreased 9.64 percent last month from 882 to 797. Sold units increased 4.18 percent year-over from June 2009.
For more information on trends over the last few years see San Diego County home sales history.  To buy or sell San Diego North County homes, contact Gary Harmon, your North County Realtor.  Gary also specializes in Carlsbad ocean view homes, Encinitas ocean view homes, and Oceanside ocean view homes.