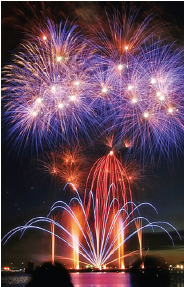 4th of July – Independance Day
Gary Harmon has a 100% success rate with "short sales." Gary has a full time "short sale negoiator" working with him that will just drive your lenders crazy until they accept your short sale.  Other agents who try to do it on their own just can't be as successful.  Get out from under your burden, let Gary help you "get your home sold today."
If you are flying the flag this 4th of July, See "Correct Way to Fly the American Flag."
Downtown San Diego at 9 pm is large fireworks display. Pick a favorite spot near Seaport Village, Coronado Ferry Landing, Spanish Landing, Embarcadero Marina Parks North and South, Cesar Chavez Park, Coronado Tidelands Park, Imperial Beach Pier, Shelter Island or Harbor Island.
Carlsbad/Legoland -Legoland. 8:30 pm
Chula Vista – Chula Vista Yacht Harbor. 9 pm
Coronado – Spreckels Park, 601 Orange Ave., Coronado. 9 pm.
Del Mar – Fairgrounds. 9 pm
El Cajon – Kennedy Park 9 pm
Escondido – Grape Day Park. 9 pm
La Jolla- La Jolla Shores and nearby Kellogg Park 9 pm
Mira Mesa – Mira Mesa Community Park. 9 pm
Mission Bay/Seaworld- Extended special fireworks display and Shamu SkySplash USA, at Seaworld. 9:30 pm.
National City – Kimball Park 9 pm
Ocean Beach – Oceanside Pacific St. and Mission Ave., Ocean Beach Pier. 9 pm
Poway – Poway High School. 9 pm
Rancho Bernardo – Bernardo Heights Middle School. 9 pm
San Marcos – Bradley Park. 9 pm
Santee – Town Center Community Ball fields. 9 pm.
Vista – Moonlight Amphitheatre / Brengle
Terrace Park. 9 pm
The list includes Carlsbad fireworks, Vista fireworks, Escondido fireworks, and San Marcos fireworks. Hope you have a great Fourth of July and enjoy the shows.
For information on San Diego North County homes, contact Gary Harmon, your North County Realtor.
As we prepare for the long 4th of July holiday weekend, many of us are excited to share this wonderful time with family and friends celebrating our country's independence that began 236 years ago.
Our freedom allows us to believe, dream, create, and live a life that has tremendous value and brings hope to so many others.
At this time, I would like to wish you a joyful Fourth filled with picnics, barbeques, parades, or fireworks with time to reflect on what this means to you.