(Source SD MLS/Sandicor)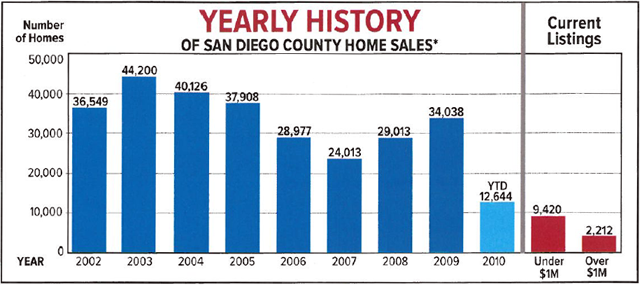 The San Diego County home sales reflect only transactions that are handled through the San Diego County MLS (Sandicor).  Only a very small percentage of transactions are done without the help of a North County Realtor.  Note that the lowest amount of sales in recent years was in 2007.  There has been a nice increase in San Diego County home sales in 2008 and again in 2009.  First-time home buyers' tax credits have certainly helped.  The year 2010 only reflects up through May, but the year is not off to a strong start. June, July, and August are seasonally stronger months.
Prudential California Realty had a great year last year doing over 15,000 transactions, representing over $10 billion in sales volume.  Prudential California Realty has been ranked by the San Diego Business Journal (based on total sales volume) as the number one real estate company in San Diego County for the last 13 straight years.  They almost doubled the second place company.  Prudential attributes its continued success in any market to its great professional sales staff.  Prudential California Realty president, Jon Cook, says "What we do is easy to summarize: We find a way to make it happen for our clients."  Prudential California Realty not only excels here is San Diego County, but also in the US and internationally.  Prudential California Realty is the #1 company in the Prudential Real Estate network.  It also has an office that is in the top 10 internationally.
What does this all mean to you as a San Diego North County homes buyer or seller?  I will ask you this question, "Why go with one of the rest, when you can go with "The Best."   To get more information on Carlsbad homes for sale, Oceanside homes for sale, Encinitas homes, or Escondido real estate, contact Gary Harmon, your North County Realtor.   Gary also specializes in Carlsbad ocean view homes, Encinitas ocean view homes, and Oceanside ocean view homes.