If you are ready to sell your current home and purchase a more suitable retirement home, a reverse mortgage may be able to help you.  The reverse purchase mortgage  program is available for San Diego North County buyers who are at least 62 or older.  With a reverse purchase mortgage you make no mortgage payments for the rest of your life.  There are no income or credit requirements with a reverse mortgage.  Let's take a look at an example of how it works.
Example of Purchase Reverse Mortgage
Buyers plan to move to San Diego North County to retire and downsize.  They now want a single level home with lots of amenities  and Ocean Hills is the perfect place.  They want to use the sales proceeds from the home they just sold and want to buy a home and not have any more mortgage payments for the rest of their lives.
This will be tough to do as  I estimate the proceeds from their sale to only be around $200,000.  I contact Ken Keranen of HomeServices Lending to see what type of program is available.
 
My clients have found a home in Ocean Hills Country Club they really like for $450,000 (3 yrs ago $600k).  We all sit down and run the numbers on this home using a Reverse Mortgage Purchase.   Here is what we came up with:
Purchase Price                           $450,000
Reverse Mortgage Funds        $262,800                        
Cash Required to Close           $187,200
 
My clients takes $187,200 of the $200,000 from the sale of their old home combined with the $262,000 reverse mortgage proceeds from Wells Fargo to purchase the new home for $450,000 and will never have any monthly mortgage payments as long as they live in the home! 
Reverse Mortgage Example for a $309,000 Purchase, Different Age Buyers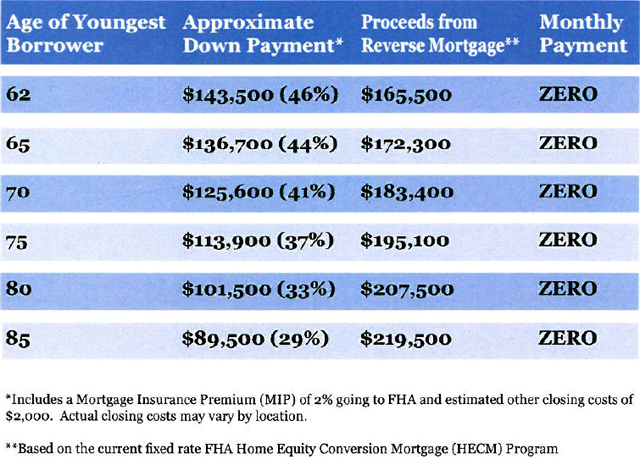 For more information about purchase reverse mortgages and how you can use them to buy your Ocean Hills Country Club retirement home, contact Gary Harmon, your Ocean Hills Realtor.  Other reverse mortgage articles available on this blog:  Purchase Reverse Mortgage Examples – Oceanside Homes for Sale, Reverse Mortgages – Frequently Ask Questions, and Reverse mortgages for San Diego home purchases.