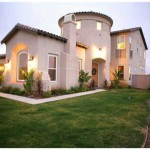 To "Rekey" a lock means to change the internal workings of the lock to operate with a new key cut. The old key no longer works in the lock, only the new key does!
Many of my San Diego North County buyers ask me if they should rekey their new home.  Yes, yes, yes!  You just don't have any idea who has ourstanding keys to your new San Diego property.  Maybe neighboors, maybe friends and relatives, and maybe several previous owners.  Rekeying is not that expensive and provides a great value and level of security.  The following gives you more information on when to rekey.
What are the benefits of rekeying?
 SECURITY – Be certain who has a key to your property, and who does not.
SIMPLICITY – Just one key can operate all locks in the home!
ECONOMY – Much less expensive than replacing locks and hardware.
When should a home be rekeyed?
When a new home is purchased.
As a closing gift for a home sale.
Tenant turnover of leased property.
When keys are lost, stolen or unreturned.  
When you change cleaning or service companies.
When a roommate moves out.
To find out more information about rekeying or general info about San Diego North County homes, contact Gary Harmon, your top North County Realtor.
All content by Gary Harmon.