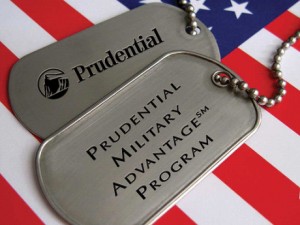 With Memorial Day coming up I thought it might be a good time to introduce you to the Prudential Military Advantage Program.  This program is a great way for you to market your San Diego North County home.  Backed by the Rock Solid reputation of Prudential Financial, and the service and technology of Prudential California Realty, our new Military Advantage Program offers unique new benefits for military families on the move.
The Prudential Military Advantage Program is designed for listing & selling properties within 25 miles of a military base.  That covers just about everything in the San Diego North County real estate area as well as most other parts of San Diego.
Prudential Military Advantage benefits North County Buyers
Prudential California Realty North County buyers can now feel comfortable that the San Diego home they are purchasing through Gary Harmon and Prudential California Realty is a home that is:
Located within 25 miles of one of San Diego's active military bases

Priced  within 5% of Fair Market Value

Protected by a one year Home Warranty policy
For military personnel on the move, the Prudential Military Advantage makes it easy for families that need to move quickly and with little hassle!
Prudential Military Advantage for North County Sellers
When you list your San Diego North County home with Gary Harmon and the Prudential Military Advantage Program you are able to reach North County military buyers that are ready, willing and able to move quickly!  The Prudential Military Advantage Program provides marketing tools to reach the special military market.  Tools that bring your North County property right to the San Diego buyer are:
Special yard sign riders that identify your North County home for sale as a Prudential Military Advantage property

Doorknob hangars with the Prudential Military Advantage logo

Special welcoming doormats identifying your property as a Military Advantage property

Special marketing brochures, targeted eCards, and much more for your Escondido home or other North County property.
To get the program started, just contact Gary Harmon, your North County Realtor 745-1220.  Gary Harmon has been selling real estate in North County for over 20 years and has put together a powerful team.  Gary Harmon's Winning Team will help with all your North County real estate needs.