If you are considering buying or selling a San Diego North County property, you should be represented by the best company and a great Realtor.  Prudential California Realty was once again ranked as the BEST for 2010.  Keep reading to find out how you too can benefit from "the BEST" when selling your San Diego North County property.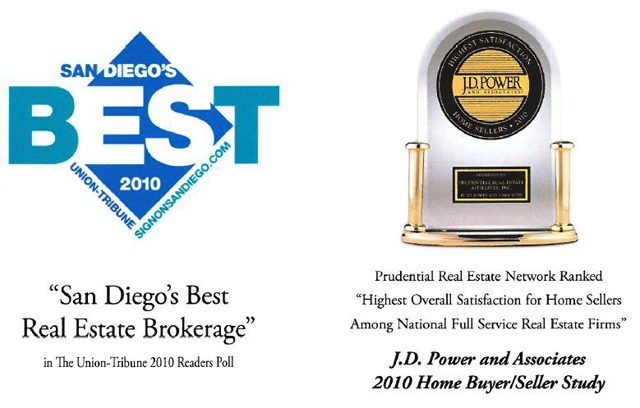 Prudential California Realty was Voted the BEST
Prudential California Realty was recently voted San Diego's Best Real Estate Brokerage in the Best of 2010 poll.  More than 100,000 readers took the time to cast a nomination for their favorite businesses in San Diego during this year's poll, which was conducted by the San Diego Union.
"Every member of our team, from our agents, managers and support staff, to the professionals in our marketing, relocation and technology departments has contributed to our success and the winning of this award," said President and CEO Jon Cook. "We are very proud to receive this distinction and would like to thank our San Diego North County clients for their years of loyalty and support."
Cook also acknowledged that Prudential California Realty's commitment to offer clients relevant information about the condition of local real estate markets had been a key factor in the company's ongoing success. "To facilitate the goals of our clients, we ensure that they receive practical advice and useful insights about all of the communities we serve," he said. "Having 58 locations allows us to provide local-based representation for clients with a broad spectrum of needs."
Prudential California Realty also offers professional and comprehensive representation throughout San Diego County,  Southern California and the Central Coast. A Berkshire Hathaway affiliate, Prudential California Realty is one of the top five brokerages in the nation.
Prudential was also recently named the leading brokerage for satisfaction among home sellers, in a survey conducted by J.D. Power and Associates. The achievement is especially impressive in light of the fact that the condition of the housing market has been more favorable to buyers over the past year, and seller satisfaction rates are typically low when the economy reflects a buyer's market.
Prudential California Realty is an independently owned and operated member of The Prudential Real Estate Affiliates, Inc.
How to Team Up With the Best
Why work with the rest when you can team up with the best, Gary Harmon and Prudential California Realty.  If you were selecting a doctor or lawyer, you would want the best.  When you are selling your most expensive asset, your San Diego North County property,  you owe it to yourself to also have the best.  Gary's winning team is the best.  You don't have to take our word for it, see the objective opinions of the San Diego Union and J.D. Power and Associates.   Put Gary Harmon's winning team to work for you today.  Aslo see Winning Team Members – Quality One Stop Services.