Escondido Home  Bathroom Remodeling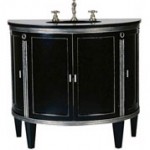 Although this is not part of my post on "100 Ways to Prepare Your Escondido Home for Sale," it will help you increase your market value.  If you want to increase the value of your Escondido home, try remodeling the bathroom before listing your Escondido home for sale.  The bathroom is one of those places that homeowners often seem to overlook in favor of their living rooms or bedrooms. Ironically, the bathroom is one of the most important rooms in your house, and one of the first things prospective Escondido home buyers will look at when they shop for Escondido real estate. It's no secret that renovating a bathroom can increase the market value of your home, and will certainly improve your chances of making the sale.
On paper, it is always nice to ensure that your plumbing is up to date; no one will care how nice your bathroom shower is if you're running it on outdated pipes that barely transport enough water to your showerhead, especially if that water takes fifteen minutes to heat up. Unfortunately, a repair like this only shows up on paper, so prospective buyers won't be able to see your new plumbing for themselves. Make sure you let them know that the plumbing is up-to-date.
Bathroom Lighting
Bathroom lighting is also of the utmost importance when listing your Escondido home. As a general rule, the better-illuminated a bathroom is, the cleaner and more spacious it appears. To that end, a great way to improve the visibility (and sell ability) of your bathroom is to install new fluorescent light fixtures and perhaps even add a skylight or widen a window. It should be noted that before you do anything, you should clean up and de-clutter the bathroom. No matter how well-lit it is, a bathroom won't look good if it is crowded with junk. Installing jet baths or whirlpool bathtubs also seems to improve home market values, though it doesn't make a whole lot of sense why: few people even seem to make use of these luxury items.
Bathroom Vanities
Of course, changes like this take lots of time and a good amount of money. Assume that you want to upgrade the bathroom in your Escondido home and thereby improve your Escondido home's listing value, but you don't want to spend months of contractor work doing it. There are a number of ways to add value to your bathroom in as little as a single weekend.  First, consider replacing the tiles on your floor, especially if they are moldy or discolored. This can be done simply and quickly with new adhesive laminate tiles or linoleum. Installing simple amenities like new shower curtains or towel racks also helps. For a swift and thorough means of improving your bathroom's value, try installing a brand new bathroom vanity: these appliances are often the focal point of the room and the very first thing a visitor will see. New and stylish bathroom vanities will beautify any bathroom and increase your Escondido home's listing price tag.  For more your information about selling your Escondido home, contact Gary Harmon, you top Escondido Realtor.