Carlsbad Ocean View Homes – Encinitas Ocean View Homes – Oceanside Ocean View Homes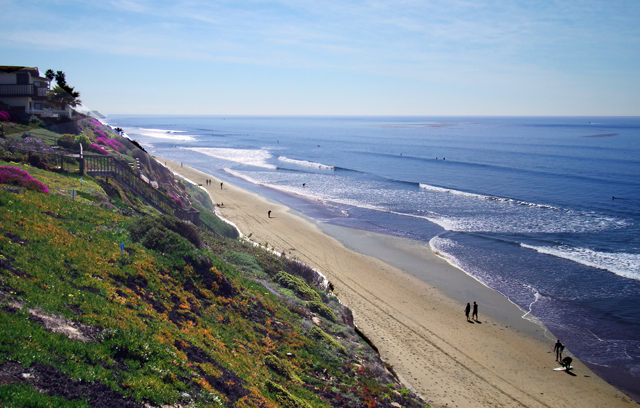 San Diego Ocean View Homes
With more than 70 miles of continuous Pacific shoreline, reliable sunshine, and near optimum climate, San Diego North County homes are easily one of the best and most luxurious places to live in the world.
San Diego's North County Coast
Due to the rolling hills and cliffs of the beach towns along San Diego's North County coast, many single family residential homes and condos boast of spectacular oceanfront views and whitewater views.  This magnificant location has created the perfect place for spectacular Encinitas ocean view homes, Carlsbad ocean view homes, and Oceanside ocean view homes.  San Diego North offers an impressive selection of ocean view properties for sale.  Ocean view real estate ranges from small condos and townhomes with seaside views, to estate-sized properties boasting sweeping vistas of the Pacific Ocean.
Encinitas Ocean View Estate Homes
Encinitas is 25 miles north of San Diego and is located along six miles of Pacific Ocean coastline.  There are sweeping panoramic ocean views, scenic views to the eastern back country, and great views of San Elijo Lagoon. This long coastline allows pleanty of room for some incredible Encinitas oceanfront, white water view and Encinitas ocean view homes. 
Carlsbad Ocean View Estate Homes
 Carlsbad homes are in an area covering about 43 square miles and Carlsbad ocean view homes are along 6.5 miles of beautiful beaches, great surfing, and miles of rolling hills, canyons, and lush valleys.  Zip code 92011 boast some great Carlsbad ocean view homes, Carlsbad whitewater homes, and Carlsbad oceanfront view homes. 
Oceanside Ocean View Estates Home
The Oceanside homes area has about 4 miles of shoreline and great beaches.  This long shoreline allows for some great Oceanside ocean view homes , Oceanside oceanfront, and some Oceanside whitewater view homes.  Oceanside is the classic California beach community with its warm sandy beaches, Oceanside Pier and Cape Cod style harbor village.
Gary Harmon – Your Ocean View Realtor
Gary Harmon, your ocean view Realtor, provides extensive knowledge and experience in assisting home buyers with ocean view homes for sale. Feel free to browse the current inventory of single family homes by clicking on the links above the ocean view photo.  If you are looking for condos or townhomes, contact Gary Harmon, and he will do a custom search for you.