Ocean Hills Country Club Library Association
As you enter the 27,000 square foot Ocean Hills Clubhouse, the Ocean Hills Library is the beautiful room on the left.  The room was dedicated in 1984.  It has been said the cabinets were purchased from a French Apothecary shop.  There are over 30 Ocean Hills residents that volunteer to work two days a month to run the library.   There are many advantages to being a library member.  You can request the purchase of a book.  If there are several request for the same book, the book purchaser will buy the book.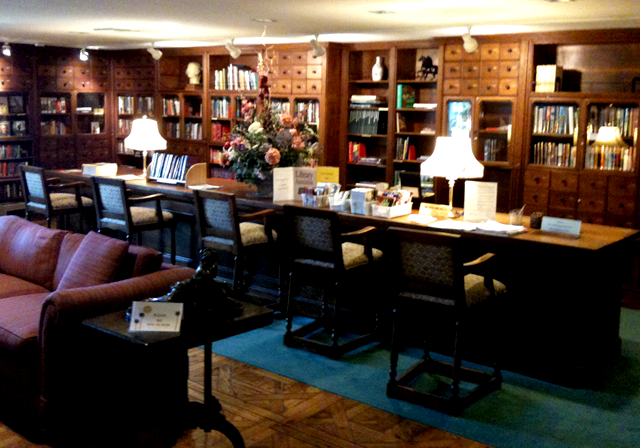 History of Ocean Hills Library
The Ocean Hills library started with just donated books.  Then, there were fund-raisers to finance book purchases.  Now the library has dues that help make the liabrary self-sufficient.  The dues are $12 a year.  All of the money collected by dues goes back to make purchases of books and supplies for the library.  In 1990, books on tape, were added to the best sellers bought each month.  Many Ocean Hills Country Club residents donate books and magazines to help control cost. 
Ocean Hills Library Association
 The purpose of the Ocean Hills Library Association is to buy books and tapes and to staff the Ocean HIlls library each day of the week, either mornings or afternoons.  Members are all allowed to reserve books, request books to be purchased, and check out books for two weeks. Members are allowed two books at a time. They may also take two books either on tape or CD's. The Ocean Hills Library Association Board meets on the second Tuesday of the month at 1 pm in the Art Room. Members may visit if they wish. The Library Association purchases about 20 books, 5 tapes, and 2 large print books each month. Circulation each month averages 500 books and 100 tapes. Donations of recent books in either hard cover or paperbacks are welcome at all times. Books which the Ocean Hills Library cannot use are donated to other organizations such as local libraries in Oceanside, Vista, Carlsbad, Camp Pendleton, and schools. Magazines are sent to hospitals for their waiting rooms.
Free Tour Ocean Hills Country Club
To visit Ocean Hills Country Club homes currently for sale, contact Gary Harmon, your Ocean Hills real estate agent. Gary will meet you outside the gate and escort you inside to show you what is available as well as to introduce you to the great Ocean Hills ammenities.  Call Gary at 760-745-1220 or email Gary at garyharmon@prusd.com.   If you are not ready to see Ocean Hills homes, please use this blog and extensive website, www.HomeInfoSanDiego.com,  to learn about the many things Ocean Hills Country Club has to offer. See other Ocean Hills Country Club clubs.