Ocean Hills Country Club is located in San Diego's North County.  Getting to Ocean Hills Country Club is easy. If you are traveling from Interstate 5, just take Highway 78 east about 5 miles. Turn south on Melrose for a couple of miles, the turn back west on Cannon for about a mile and a half. Ocean Hills Country Club is on the south side of the road just before Cannon ends.
If you are driving from the east on Highway 78, it is a little tricky since there is not a Melrose exit. You must get off on Vista Village Drive and head west until you hit Melrose south. Then Cannon west to Ocean Hills country club.
You can also reach Ocean Hills when you are on Palomar Airport Road. Go north on Melronse and then west on Cannon to Ocean Hills Country Club. There are "no" other ways to reach Ocean Hills.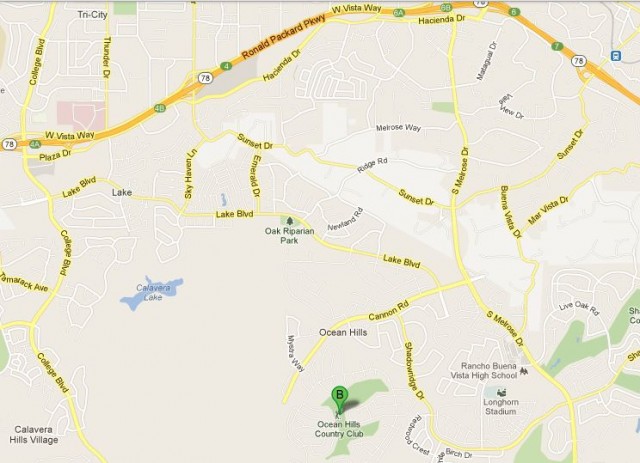 When you reach Ocean Hills, just park right outside of the gate. I drive a white Cadillac SRX with red signs on the side.