Is this Norv Turner's last season with the San Diego Chargers? The opening game is tonight at 7:15 on Channel 8 Monday Night Football. Who wins this game and the games to follow in this 2012 season opener may seal Norv's fate. Enjoy the game against Oakland and root for the Chargers.
See schedule below for games.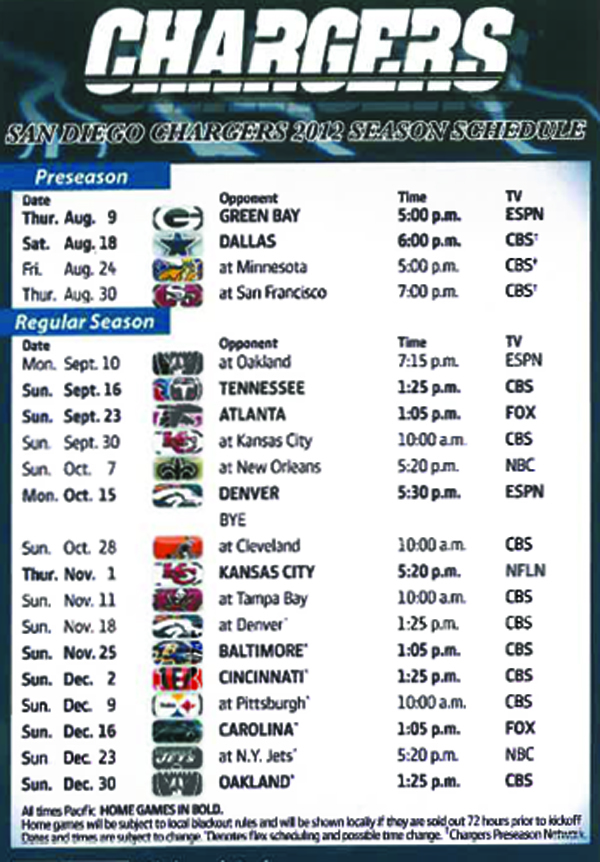 I am posting this schedule pretty much for my own personal pleasure.  I am always having trouble finding the Charger Schedule without having to go through a lot of ads on a lot of sites.  Hope it is helpful for you also.
Wow! Didn't know that Google would like my blog and stick me at the top of the page.  Also, had no plans to make comments, but just can't pass this up.
Chargers vs Oakland:  Chargers win 22 to 14.  Well that is a streatch, almost a lie.  The truth is if you saw the game, Oakland just gave us the game with their mistakes.  If fact, I told the guys at my work that this was my last day, I had received a call from Oakland to be the long snapper.
Even though the Chargers have no running game, maybe the worst I have ever seen, they seemed to get their offense on track and move the ball. Phillip Rivers made some of the better throws that I have ever seen him make.  Gates caught some of them.  And the Chargers pass defense was pretty good, even though the Chargers line did a terrible job rushing Palmer.
And the last comment I will make is about the Charger's coach, Norv Turner.  Why couldn't the Chargers run some type of play to run out the clock at the end of the game rather than risk giving Oakland a last shot.  Is this Norv's last season?
Chargers vs Saints  Saints defete the Chargers 31 to 24.   Don't even know what to say about this game.  Just another loss that shouldn't have been.
Chargers vs Denver  Denver comes from way behind to beat the Chargers 35 to 24.  Did I say the Chargers had Denver down 24 – 0 at half time.
Norv doesn't even know how to cheat well.  If he was using a sticky substance to help the Bolts hold on to the ball, he must have ran out at half time.
Chargers vs Cleveland  The Chargers even found a way to loose to one of the worst teams in the NFL, the Browns 7-6.  Although Norv wasn't brilliant in this game either, you can hardly blame him for Meachem dropping a clear touchdown pass.  A ball that hit him right in the hands and stomach.
Chargers vs Tampa Bay   San Diego gives the game away to Tampa Bay 34 to 24.  I think that I have figured out the Chargers passing problem.   Philip Rivers is color blind!   Nothing else can explain why he throws the ball directly to players of the other team.
Get your personal tour of current listings in San Diego North County.  Contact Gary Harmon, your top North County Realtor.
All content by Gary Harmon.