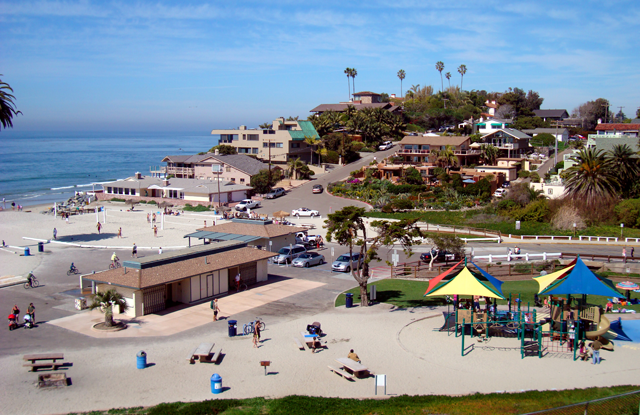 Moonlight Beach Ammenities
At the bottom of a gently sloping hill, right below some special Encinitas ocean view homes, is the spectacular Moonlight Beach and all it has to offer.  It is located near the foot of Encinitas Boulevard, at the west end of "B" Street and 4th. Its sandy beach is great for volleyball.  Facilities there include picnic tables, fire pits,benches, recreational equipment rentals, a snack bar, showers, rest rooms and volleyball courts.  The parking lot for Moonlight Beach sits high above the beach on the bluff.  In addition to parking, it is used for popular car shows such as the annual gathering of Woodies.
Moonlight Beach Concession Stand
One of the changes you will soon see is the Moonlight Beach concession stand will get a total makeover.  Since June and Treggon Owens took over the Moonlight Beach Concession Stand last year good things have been happening.    Treggon said, "We worked with the city to replace everything from the sewer to ceiling fans," he said. "We bought all new restaurant equipment. We wanted a clean start. I didn't want to worry about equipment that might break."  The concession stand is also getting a new menu featuring great items form some of the finest food purveyors in the area: Foster Farms corn dogs, Sadie Rose Artisan Breads, Garden State Bagels,  Block and Barrel Specialty Cheese,  and Tillamook Cheese.  You can get more information on the menu or view the full menu by visiting, www. moonlightsnack.com.  For the kids, snow cones have been added.  The Moonlight Beach Concesson Stand is open a minimum of 10 a.m. to 4 p.m. every day of the year.
Enjoy your next visit to Moonlight Beach with the family, and to see Encinitas Ocean View homes, contact Gary Harmon.  Gary also specializes in Oceanside ocean view estates, and Carlsbad oceanfront homes.