Memorial Day in San Diego County, Monday, May 28 is very special indeed. San Diego is the largest military area in the nation with nearly 200,000 active duty and retired military. We salute those who have died in the defense of our country on May 28th.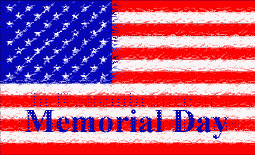 Memorial Day officially began in Waterloo, New York on May 5, 1866. It has been a continued tradition each year since that date.
The brunt of the current wars in Iraq and Afghanistan has been shouldered by San Diego military personnel carrying the fight to our enemies. The 3rd Battalion of the Fifth Marine Regiment at Camp Pendleton has had dozens of its troops wounded or killed, more than any other unit in recent years.
Here in San Diego County, we certainly know how and why we honor our nation's finest. We visit cemeteries, fly our flag at half mast, and if you really want to participate you can pause at 3 p.m. on May 30th and remember those who sacrificed their lives for our great freedoms. We are also most thankful that thousands of our local men and women return home from their combat tours to their families and San Diego neighborhoods and try to settle into a normal real living lifestyle.
As a Realtor selling San Diego North County homes, I have set up special web pages to offer help and a Military Discount to those are serving our country.
See this pages at:
To get a personal tour of San Diego North County homes, contact Gary Harmon, you military off base housing expert.
All content by Gary Harmon.