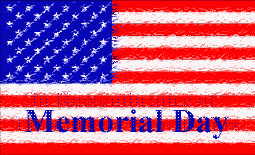 Memorial Day this year is May 31st.  Memorial Day is the day we remember those that have died serving in our Country and was declared a Federal Holiday in 1971.  We are especially respectful here in San Diego because of the large number of military personnel. 
 With Memorial Day coming up soon and the great weather we expect, many of us will be out in our back yards with family and firing up the BBQ.  It is a great way to start summer, but the followings tips can help us be safe.  Follow these tips to protect our Escondido homes and our families.
Follow the directions in you grill manufactures safety manual about the right placement of the grill.
Always know where your fire extinguisher is located. 
Never squirt lighter fluid directly into an open flame.  The flame can flashback along the fuel path  to the container and to your hands.
If it is a gas grill, always lite the grill with the lid up.    Make sure there are no gas smells.
Regularly clean your grill to eliminate grease build up to control flare-ups.
If it is a gas grill, inspect your grill to make sure the gas flow is not obstructed.  If LP gas, make sure the bottle has gas.
By taking a few simple steps you can keep your Escondido home safe and prevent anyone from getting hurt.  Have a great Memorial Day, and if you need  any Escondido real estate help this Spring-Summer, contact Gary Harmon, your Escondido Realtor.