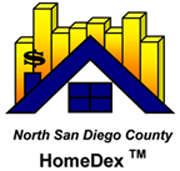 The June 2011 HomeDex™ Report provides May 2011 San Diego housing statistics.   Information in this report is used by permission from the North San Diego County Association of Realtors®  (NSDCAR).   Gary Harmon, your Real Living Lifestyles  Realtor, has been a member of NSDCAR for over 20 years.
 The median price for all North County home sales – attached and detached – remained constant from last month at $380,000 in May 2011.
 Detached homes in North County rose slightly by 2.22 percent from $450,000 in April 2011 to $460,000 in May 2011.  Median price has moved up and down monthly this year, with no sustained positive or negative trend. However, year-over median SFD price of San Diego North County homes decreased 3.46 percent from $476,500 in May 2010, continuing a four month trend of year-over price declines (following an 18-month trend of increases in median price).
 The number of SFD listings (active and contingent) increased 3.40 percent in May 2011 from April 2011; listings have increased during each month of 2011. Listings were up 9.27 percent year-over from May 2010.
 The number of sold North San Diego County homes SFD units decreased 6.7 percent in May 2011 from April 2011, following three months of increases.
Median days-on-market for single-family detached homes in North County decreased to 47 days in May 2011 from 50 days in April 2011, the lowest level this year.
If you like San Diego North County home statistics, you can always be up to date with Gary's Altos Research Reports by major North County communities.  Follow these links: Carlsbad homes, Oceanside homes, Encinitas homes, Vista homes, San Marcos homes, and Escondido homes.
To schedule a personal tour of homes in San Diego North County, contact Gary Harmon, your Real Living Lifestyles Realtor.  If you would like to search for properties on your own, just click on the community of interest listed under  "Current Listing"  in the column immediately to the right.