The Housing Affordability Index reached a record high of 192.3 for February, 2011. Two contributing factors to the Index are the price adjustments homes have experienced in recent years combined with the unusually low mortgage rates make this an outstanding opportunity for North County home buyers who can qualify.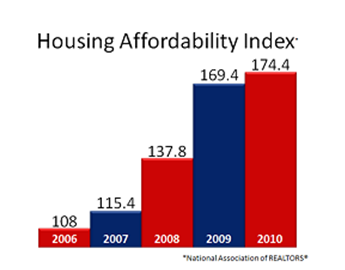 Before the housing bubble burst in 2006, the index average for the year was 108. The higher prices and higher interest rates restricted many San Diego buyers from purchasing.  The opportunities are not being seized by some San Diego North County buyers because there is confusion in the marketplace. North County home buyers are uncertain whether they would qualify and whether now is a good time to be purchasing a home.
All markets are different and every situation is unique. The only certain way to determine would be to investigate your individual situation. You owe it to yourself and your family to visit with Gary Harmon, a Prudential real estate professional, who can show you the real cost of San Diego North County housing and introduce you to our affiliate, HomeServices Lending powered by Wells Fargo.
For more San Diego North County home information, contact Gary Harmon, your North County Realtor.
See  Now is the Time to Buy a Carlsbad North County Home.  Also see,  The Time to Buy a San Diego North County Home is Now.
The National Association of Realtors releases the affordability index at the end of each month with a two month lag time for compiling the information. When the index is at 100, a median income family can afford a median price home. As the index increases, housing affordability increases.