When a San Diego North County buyer finds a home and writes an offer, I always encourage them to ask for a home warranty from the seller.  If the seller will not pay, I would encourage all of my North County buyers to go ahead and buy it for themselves.  I also practice what I preach by carring a home warranty on my own Lake San Marcos home.     One of  my winning team members is HSA Home Warranty, home protection plan.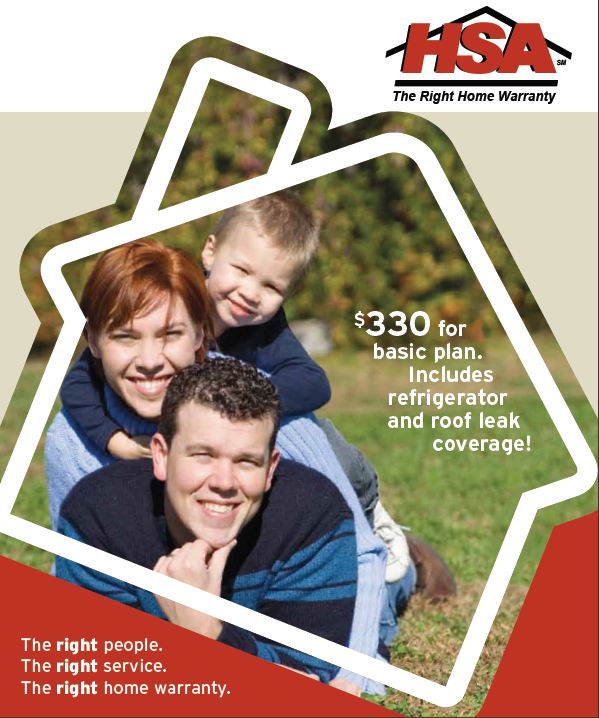 The HSA Home Warranty basic BUYER coverage w/$55 deductible is $330 TOTAL.
 The basic BUYER coverage includes: Heat, Plumbing, Electrical, Roof Leaks, garage door opener including hinges, springs and remote transmitters, Refrigerator including icemaker/crusher and beverage dispenser, thermostats, routing of drain line stoppages including hydro-jetting, toilet tank, bowl & wax ring seals replaced with builder standard, whirlpool bathtub, hot water heater including tankless water heater, primary sump pump and instant hot water dispenser, central vacuum, door bell, smoke alarms, ceiling fans, interior attic and exhaust fans, trash compactor including lock/key assembly and bucket, dishwasher including racks, baskets & rollers, garbage disposal, Oven/Range including interior lining, clocks, rotisseries, racks, handles, knobs and dials, and built in microwave including interior lining, door glass, clock and shelves. All of this is highlighted on page 3 of the Coverage Highlights page of the brochure attached.
You can upgrade to the BUYER 7 Star Plus Upgrade which costs only $455, plus any additional Buyer Options such as Washer/Dryer $50. HSA Home Warranty offers swimming pool coverage including the salt water circuit board and cell for only $125!
The $455 Buyer 7 Star PLUS Policy Upgrade includes all of the basic coverage plus:
Central Air, refrigerant recovery and ductwork, crane charges (roof top ac units), Toilets replaced with like quality; faucets and shower heads, $250 towards code violations (earthquake straps on hwt) – $300 towards modifications on approved central heat, air or hwt, removal and disposal of replaced equipment (ex: hwt, ac unit, etc.), mismatched heating and cooling systems, failures due to improper installations, modifications and/or repairs.
The most comprehensive coverage is certainly the BUYER 7 Star Plus Plan = $455 TOTAL  (plus any additional BUYER options).
 If you have any questions or need more informatin on an HSA Home Warranty, contact Gary Harmon  for experienced solutions to all your real estate needs.