This is the second in my series about Carlsbad real estate history.  If you missed it, the first was Twin Inns – Ocean House.  Behind Carlsbad Village Faire to the east is the original Carlsbad train station.  I see it everyday as I walk around the Faire.  Walked over last week and took the photo below.  The original station is now a Carlsbad information center.  This original Carlsbad station still exist in its original location at State and Elm Streets.  It is one of the train stations that remains trackside in close proximity to the newer station Carlsbad Village Station.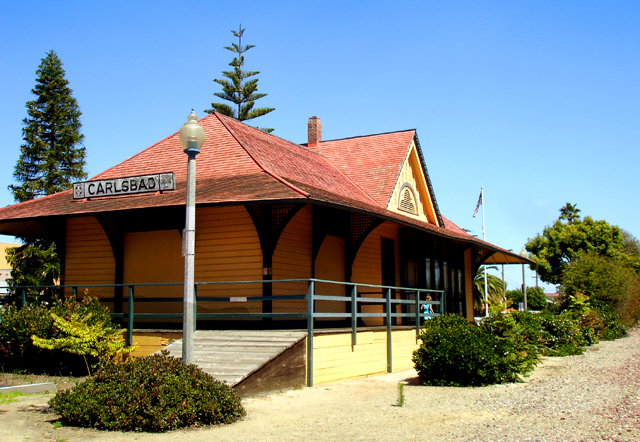 The end of line is downtown San Diego and the historic Sante Fe Train Depot. The depot was originally built in 1887 and replaced in 1915 in the Spanish Revival style of architecture. Like many buildings in San Diego, it was rebuilt to prepare for the Panama Pacific Exposition. It, too, was in a precarious situation in 1971 when the depot was faced with the ugly prospect of demolition. Preservationists, citizens and anyone with a one-track mind to save the old depot, delivered the message that any idea of destroying the building was an idea careening down the wrong track. Attempts to destroy this San Diego treasure were thwarted and the building rolled right into the National Historic Register in 1972. Touchdown for those who worked hard to save it. Sante Fe is at Kettner and Broadway in downtown San Diego.
If you want to engineer a fun day trip, hop on Amtrak or even the Coaster train and ride the rails up to Carlsbad or Oceanside from the historic Santa Fe Depot in downtown San Diego. You won't be able to see Encinitas from the train, but you'll see Santa Fe, Del Mar, and Carlsbad stations.
Trains and train stations conjure up all sorts of nostalgic and romantic images. Train stations have been places to both welcome home loved ones or to say goodbye. Train stations dot the landscape of towns and cities that we often never venture out to explore, but somehow, passing through them, we get a sense that we've been somewhere. Trains take us to more than train stations. Visit one of the train stations and consider taking a train ride. We can't afford to lose the magic of train travel. All aboard!
To get Carlsbad real estate information, contact Gary Harmon, your Carlsbad Realtor.