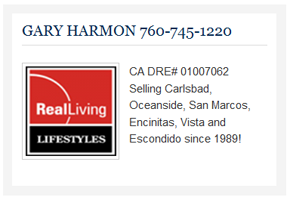 After 21 years of  selling  San Diego North County homes, Gary Harmon has moved to Real Living Lifestyles.    Real Living is a full-service, international real estate franchise company with a comprehensive suite of resources aimed at helping brokers, agents and their clients successfully navigate through the home buying and selling processes.   Real Living Lifestyles is our local San Diego franchise name.
Since its founding more than half a century ago, Real Living has maintained a reputation as one of the most innovative companies in the real estate industry. 
In 2009, Real Living was purchased by Brookfield Residential Property Services. They merged GMAC Real Estate under the Real Living brand and now represent more than 400 offices throughout the United States and Internationally.  In 2011, Real Living Lifestyles became a part of the Real Living network.
Gary Harmon joins Real Living Lifestyles in June 2011. 
The first step of this actual journey started in January 2011 when Gary joined the powerful Hadley Home Team.  This team has worked well together, resulting in the team being ranked 4th in number of units sold for Prudential California Realty in the first quarter of 2011.  When the team decided to move to the high energy company of Real Living Lifestyles, naturally Gary chose to go along. 
The leadership and the agents in Real Living Lifestyles are not new to Gary.   Real Living Lifestyles, formerly Windermere Exclusive Properties, is led by partner and president, Steve Rodgers.  Steve was one of Gary's first managers at Prudential California Realty and had a lot of influence on his career.  Gary was privileged to watch Steve grow from a Prudential manager to president of Prudential California Realty.  Much of Prudential's growth was the result of his leadership.   Gary is looking forward to working with Steve and the Real Living Lifestyle agents to continue to grow  Real Living Lifestyles.  Many of these agents at Real Living Lifestyles are also good friends and fellow agents that Gary has worked with in the past.
To get more information about San Diego North County homes ore Real Living Lifestyles, contact Gary Harmon, your Hadley Home Team Realtor.