After 21 years of  selling  San Diego North County homes, Gary Harmon has moved to Real Living Lifestyles.   WHY?  See below.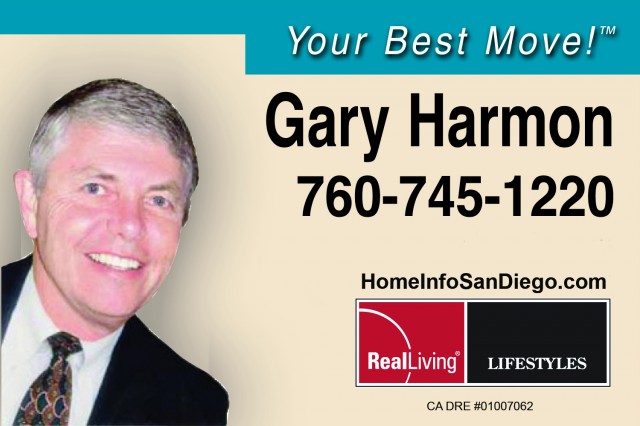 I have moved to bring a better experience to my clients.  Somtimes working in a more intimate atmosphere (but not small, since Real Living has over 10,000 agents) allows you to provide clients with a more personal solution to their needs. 
The first step of this journey started in January 2011 when I joined the powerful Hadley Home Team.  The synergy created with this team has been great, resulting in the team being ranked 4th in number of units sold for Prudential California Realty in the first quarter of 2011.  When the team decided to move to the high energy company of Real Living Lifestyles, that seemed to be a perfect fit.
The leadership and the agents in Real Living Lifestyles are not new to me.   Real Living Lifestyles, formerly Windermere Exclusive Properties, is led by partner and president, Steve Rodgers.  Steve was one of my first managers at Prudential California Realty and had a lot of influence on my career.  I was privileged to watch Steve grow from a Prudential manager to president of Prudential California Realty.  Much of Prudential's growth was the result of his leadership.  I am sure he will do the same for Real Living Lifestyles.  Many of the agents at Real Living Lifestyles are also my good friends and fellow agents I have worked with in the past.
I will be working out of the newly remodeled "Carlsbad Village Faire" office, located in the heart of Carlsbad, only a block from the beach.  The manager of that office is Diane Hogencamp.  I had the pleasure of being her assistant manager at Prudential Escondido and Prudential San Marcos.  Steve Rodgers, Diane Hogencamp, Sandi Hadley, and many others of our team have been together many years.
So, in summary, the move to Real Living Lifestyles is more like "coming home" than moving.
If you would like to work with a great team and company, contact Gary Harmon, Real Living Lifestyles.
Gary can be reached at gary@garyharmon.com or by texting or calling 760-745-1220.
Real Living Lifestyles is part of Real Living Real Estate and Brookfield Residential Property Services.