To Provide Clients the Best Service Possible!
To create a strong winning team, Gary joined San Diego's #1 real estate company and a name you can trust, Prudential California Realty. Gary then teamed up with Pickford Escrow, California Title Company, Home Services Lending, and Prudential Relocation San Diego.  Gary has chosen to concentrate on Encinitas homes for sale, Carlsbad homes, Oceanside homes, Vista, Lake San Marcos, and Escondido real estate.  Whether selling a starter home or marketing a luxury estate, Gary provides the same world class service to his valued San Diego North County clients. Gary has become a true North County real estate expert that you can rely on when buying or selling North County homes.
Now, to offer even better service to his clients, Gary has chosen to join the Hadley Home Team. Gary has worked with Sandi Hadley at Prudential California Realty for over 17 years.
Hadley Home Team
The Sandi Hadley Home Team and Gary Harmon has teamed up to help you buy or sell your next San Diego North County home.  The Hadley Home Team is ranked #14 in volume of homes sold for Prudential California Realty, out of over 1800 agents, and we have been a top producing team for over twelve years.   The Hadley Home Team All-Star agents provide you with top quality service, and with professional advice on buying and selling, financing and protecting your most valuable asset.
The Hadley Home Team is headquartered at the Prudential California Realty office in Carlsbad, CA.  Sandi Hadley's team consists of the best trained, most experienced, and most knowledgeable agents in San Diego.
Hadley Home Team Mission Statement
We create an environment  that allows our clients to experience superior service while we seek to help them achieve a better quality of life. We pride ourselves on professionalism while still offering that "personal" touch and understand about staying ahead and being on the cutting edge. We assist with enthusiasm and knowledge, from the first time homebuyer, all the way to the seasoned homeowner. Our individual goals are met with vision and hard work, while at the same time we contribute to the goals of the whole.  Gary agrees with this statement and is proud to adopt it as his own.    Experience a team effort– Enjoy the  many advantages of the team approach?   See what Gary has to offer below photo.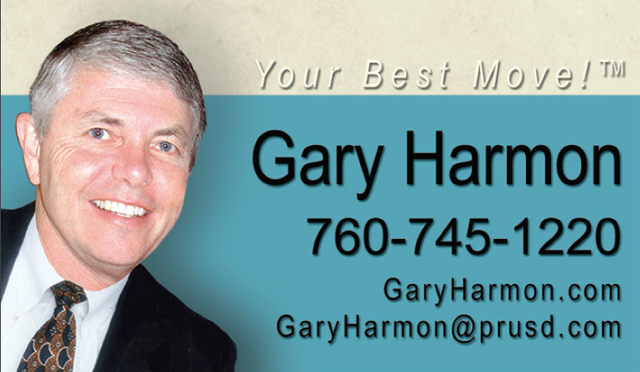 Over 21 Years of Experience
For more than twenty one years Gary Harmon has built a phenomenally successful North County real estate business through building relationships.  Gary realizes that people don't care what you know until they know you care.  This has made Gary Harmon a North County Realtor that people trust. Whether selling a starter home or marketing a luxury estate, Gary provides the same world class service to his valued North County clients. Gary has become a true San Diego real estate expert that you can rely on when buying or selling North County homes.
A Good Communicator
Gary understands that people in todays world require immediate and responsive communication.   Give him a test and calling or TEXTing 760-745-1220.  You will get an immediate response.  As a and San Diego Prudential Relocation specialist, Gary has been trained and certified in Marketing Assistance and Destination Services.  He uses his knowledge of North County real estate to provide valuable Prudential Relocation services for all San Diego County.  In addition, if you are buying or selling real estate somewhere else in the world, Gary can refer you to a top, experienced, Prudential Relocation,  real estate professional.
Awards, Honors, and Membership
Gary Harmon has continually distinguished himself with Prudential California Realty awards and honors throughout his 21 successful years of selling North county homes. Dedicated to professionalism in the industry, Gary is a member of the San Diego Association of REALTORS, the California Association of REALTORS, and the National Association of REALTORS.
Background in Leadership
Gary´s widely diverse background in leadership, business and finance serves his clients well. Prior to his career in real estate, Gary was president and was in charge of real estate for Wet Seal Stores, a major junior clothing retailer. "Gary´s training and experience in real estate negotiations with major shopping center developers comes in very handy helping him realize the best possible price for his north county residential real estate clients." says Diane Hogencamp, branch manager at Prudential California Realty Carlsbad. While working at Prudential, Gary has served as Sale Manager at both the Escondido and San Marcos offices.
Other Background Information
Gary was a Certified Public Account at Ernst & Young´s San Diego office. He received his Master´s Degree in Business Administration from the University of Oklahoma in 1971. Gary also served as Lieutenant in the United States Navy from 1968-1971.
For a great real estate experience, contact Gary Harmon and the Hadley Home Team, for your next San Diego real estate experience.
A Personal Insight
When Gary Harmon is not working he loves to spend time with his 5 grandchildren who also live in San Diego North County.  Gary also likes to travel to tropical places and take underwater photos of tropical fish.   When at work, Gary enjoys tropical saltwater fish in his large office aquarium.  Gary Harmon likes to share his underwater experiences and photos and writes articles on Shore Diving and Saltwater Aquarium for the Internet.  Some of them are as follows:
Saltwater Aquarium Reef Fish Photo – Saddleback Butterfly
Gary Harmon's Naso Tang
Saltwater Aquarium Reef Fish Photo – Painted Parrotfish
Summary of Gary's Aquarium Fish Photos