National Association of Realtors Survey
According to a National Association of Realtors survey of buyers and sellers, first-time homebuyers accounted for half of all home sales from July 2009 through June 2010.  That's the highest share of first-time-buyer purchases in the history of the survey.  This large number of first-time home buyers was due to the generous incentives offered by both Federal and State Governments.  The survey dates back to 1981.
The typical first-time buyer was 30 years old (compared to a median 49 years old for repeat buyers and 39 years old  for all buyers) and planned to stay in their home for a median of 10 years. Repeat buyers planned to stay for 15 years. Typical sellers had remained in their previous home for eight years.
87% of home buyers started on the Internet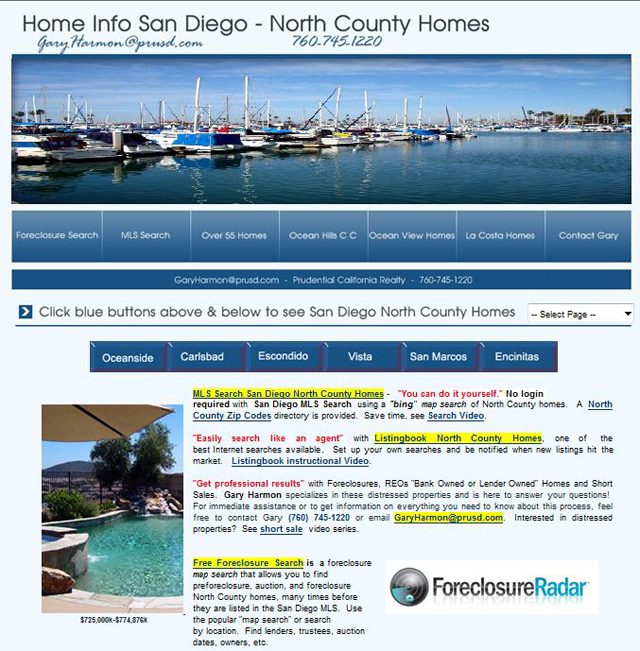 Almost half (48 percent) of buyers found their agent through a referral from a friend, relative, or neighbor; the next highest percentage, 10 percent, used a website.  According to the National Association of Realtors, over 87% of home buyers started their seach for a home on the Internet.
The most valuable website feature for San Diego North County buyers was the presence of photos: 85 percent said they found photos "very useful." Detailed property information was very useful for 83 percent and virtual tours were very useful for 61 percent.  That is why this blog, www.GaryHarmon.com and my main website, www.HomeInfoSanDiego.com, offer a plethora of great photos.
On the main website you can search by using the main search buttons: Foreclosure Search, MLS Search, Over 55 Homes, Ocean Hills C C, Ocean View Homes, La Costa Homes, and Contact Gary.  If you want know more about the San Diego North County real estate communities you can go to the community buttons of: Oceanside, Carlsbad, Escondido, Vista, San Marcos, or Encinitas.  Your search possibilities only start with the main search buttons.  There are over 200 pages of custom, relevant, San Diego North County homes real estate content available on "HomeInfoSanDiego.com."  Many communities, such as "Ocean Hills Country Club Homes," have their own websites within the main website.
Enjoy this San Diego North County real estate resource, and for personal attention, contact Gary Harmon, a top North County real estate agent.