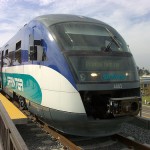 Information compliments of Gary Harmon, your top Escondido real estate agent.  For more Escondido homes info, contact Gary Harmon, your Escondido Realtor. 
Several years ago the North County Transit District started light rail service from the Escondido real estate area to the Oceanside transit terminal.  (See Sprinter Schedule and Map of Stations)  First, let me say the trains themselves are beautiful and truly state of the art.  They are sleek, quiet and efficient.  The engines are diesel multiple units and they run on 22 miles of track from the Escondido homes area to Oceanside along the Highway 78 corridor.   There are 15 stations along the way.  However, the name Sprinter should probably have been "Snail" because that is about how fast they go.  If you really want to go all the way to the coast quickly, there are a way too many stops.   Best thing to do is to take something to read or work on along as you travel.  Enjoy NCTD Sprinter Video.  
The Sprinter Inproves the Escondido Real Estate Area
By helping get cars off the road 
By providing freedom for seniors, students and workers.
By offering reliable, affordable, and stress free transportation from inland to coast (Not affordable for taxpayers)
Service Features of the Escondido – Oceanside Sprinter
A sleek, quiet, and efficient transportation system
Safe, state of the art light rail vehicles
Seven days a week passenger service
Sprinter Helps Create a More Livable Escondido Real Estate Area
Offers an easy way for employees and consumers to travel from their Oceanside homes to the Escondido business areas
Provides a way to live in Escondido homes and easily commute and work on the coast
Benefits Escondido's pedestrian-oriented, joint use developments such as Gateway Shopping Center and the downtown area which is home to the new movie complex and the California Center of the Arts.
The Sprinter runs east and west and connects to the Coaster in Oceanside.   The Coaster runs north and south.  
The Coaster, is a commuter rail service that operates from San Diego North County real estate agea to Downtown San Diego  ( See Coaster Schedule).   The service is operated by TransitAmerica on contract with North County Transit District (NCTD). The service has eight stops serving  San Diego, Solana Beach homes, Encinitas homes, Carlsbad homes, and Oceanside homes . Service operates primarily during weekday peak periods, but limited weekday midday, Friday evening, and Saturday service also exist. Special evening service is provided when the San Diego Padres play Monday-Thursday evening home games.
For more Escondido real estate information or San Diego North County homes info, contact Gary Harmon, your top North County Realtor.