Escondido Housing Market  as of 2-15-2010
This week the median price for a home in the  Escondido real estate area was $399,900. This is down from the median price in November of 2009 of $415,000.  The average asking price per squae foot was $193.  The inventory of Escondido homes for sale is increasing.  This is partially due to the usual homes coming on the market after the first of the year.  The other contributing factor, and somewhat more concerning, is the slow down in sales of Escondido homes. In is definitely a buyers market as the demand level is low relative to the available inventory of Escondido homes for sale.  This weakening Escondido real estate market has caused prices to start to come down. See the chart below for trends supplied by Altos Research.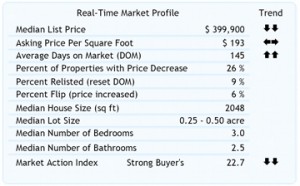 Another good way to look at Escondido real estate data is to look at sales by quartiles, the most expensive to the least. In the top or first quartile the median sales price was $749,500.  Down from $875,000.  In the second quartile Escondido housing prices were $485,000, down from $508,000. In the 3rd quartile Escondido properties had a median price of $319,990, down from $339,000 .  And in the bottom quartile Escondido housing had a median price of $217,000 which was up from $210,000 last November.  To get more current market conditions on Escondido homes for sale, call Gary Harmon, your Prudential California Realty Escondido Realtor.