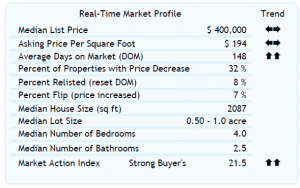 The median price of Escondido Homes for Sale this May 2010 is $400,000.   The 623 Escondido properties have been on the market for an average of 148 days.  The Escondido real estate market is not sending a strong directional signal for the immediate future .  The Escondido homes for sale inventory and the days on the market have both been increasing slowly.   It is still an Escondido buyer's market, and Escondido house prices have been weakening. How is the market in each Escondido home for sale areas?  Find out the answers to this and many more questions by Escondido zip codes. See how Escondido homes for sale compares by median price, list price per square foot, average days on the market, and more.  This website,  www.HomeInfoSanDiego.com tries to provide enough statistical information about North County real estate  to help you make an informed buying decision.  Use the numbers on this page and feel free to email or call Gary Harmon, your Prudential North County Realtor, to help you analyze the numbers presented. Get answers to what kind of home can you afford,  what size will it be, or how can you tell a good deal when you see it. 
Escondido Homes for Sale
| | | | | |
| --- | --- | --- | --- | --- |
| Escondido Homes Market Summary  May 2010 | Zip 92025 | Zip 92026 | Zip 92027 | |
| Median Asking Price | | | | |
| List Price per Square Foot for the Escondido property | | | | |
| Average Days on the Market for the Escondido home | | | | |
| Median Escondido Homes Size (sqft)   | | | | |
| Median # of Bedrooms in Escondido house | | | | |
| Median # of Baths in the Escondido properties | | | | |
The median prices in Escondido homes for sale in the above table does not always give the whole picture.   It sometimes helps to look median prices broken down by quarters.  The following for Escondido homes is an average of all zip codes.  The median Escondido homes for sale price for the most expensive 25% of Escondido homes is $799,000.  The median price for the upper middle 25% is $485,000.  The lower middle median price for Escondido homes is $339,000 and the bottom 25% of Escondido/ homes for sale median price is $220,000.  For more information about Escondido homes for sale, contact Gary Harmon your Escondido Realtor and seasoned Escondido real estate agent.