Sunday, April 24th, is Easter in San Diego.  Coloring Easter eggs and hiding them with our grandchildren is certainly one of the things we look forward to doing.  But where did the tradition of coloring Easter eggs start.  See answer under photo.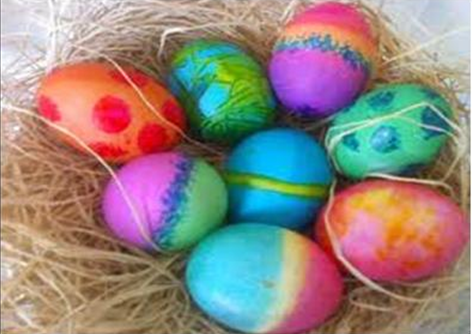 The ancient Zoroastrians painted eggs for Nowrooz, their New Year celebration, which falls on the Spring equinox. The Nawrooz tradition has existed for at least 2,500 years.  The egg painting custom was traditionally know as "Pysanka."  The reason for painting Easter eggs in bright colors is that they represent the brigtht sunlight of spring time.  Fom me, they just look great and are easier found when hidden in hard places.  The egg is also the symbol of rebirth.  How appropriate since Easter is when Christ was raised from the dead which allows everyone that believes on him to have "rebirth."  The Christian faith calls it being "born again." 
The oldest tradition is to use dyed or painted chicken eggs, but a modern custom is to substitute chocolate eggs, or plastic eggs filled with confectionery such as jelly beans.  Americans spend about $2 billion on Easter treats and goodies while consuming 7.1 billion pounds.
To get help with San Diego North County real estate, contact Gary Harmon, your North County Realtor.