Friday, August 5, 2011, Benefiting PCI
Join Us ( Hadley Home Team at Real Living Lifestyles) for our 10th annual Day at the Races at the Del Mar Fairgrounds.  See details below photo.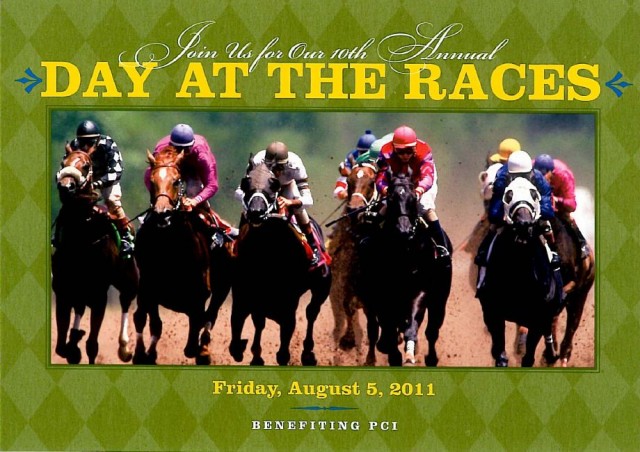 Equus Skyroom – Del Mar Turf Club (at the finish line )
 Guest can begin arriving after 2:00 p.m. 
Races start at 4:00 p.m. 
Admission to the Equus Skyroom includes Turf Club privileges, complimentary program, plus special entertainment.  All proceeds from this event benefit the San Diego – based non-profit PCI.  Please Join Us!  For more information or to RSVP for this event contact Sandi Hadley at (760) 942-2156 or mail a check made payaable to "PCI" to: Sandi Hadley c/o Real Living Lifestyles, 300 Carlsbad Village Drive, Suite 223, Carlsbad, CA 92008. 
The following type of seating is available:
The Finish Line – Sponsor Table for 6 at the Finish Line – $1,000.
Premier 1st Level – 1st Level Premier Window Seating for 6 – $400
Premier 2nd Level – 2nd Level Premier Window Seating for 8 – $350.
Patio Seating – Outdoor Back Patio Seating for 10 – $325 or Middle Patio Seating for 8 – $280.
Individual Tickets – $35 per person.
Opportunity Drawing Tickets – 5 for $20, or 11 for $40.
Due to the limited availability, window seats will be sold on a first-come, first-serve basis.
Hope to see everyone there.
If you are looking for San Diego North County real estate, contact Gary Harmon, Hadley Home Team.