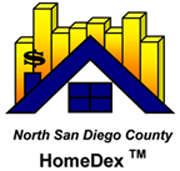 The June 2012 HomeDex™ Report provides May 2012 San Diego housing statistics. Information in this report is used by permission from the North San Diego County Association of Realtors® (NSDCAR). Gary Harmon, your Real Living Lifestyles Realtor, has been a member of NSDCAR for over 22 years.
• The median price for all San Diego North County homes sales – attached and detached – increased from $365,500 in April 2012 to $390,000 in May 2012.
• Detached North County homes jumped 6.9 percent in May 2012 to $449,000 compared to $420,000 in April 2012. Year-over median price in San Diego North County decreased 2.39 percent compared to $460,000 in May 2011.
• The countywide median single family detached price increased 1.55 percent to $345,000 in May 2012 compared to $339,750 in April 2012.
• The number of San Diego North County single family detached listings (active and contingent) declined 1.73 percent in May 2012 compared to April 2012.
• The number of sold San Diego North County SFD units increased 7.89 percent in May 2012 compared to April 2012, following three months of double-digit percent increases, and jumped 27.43 percent year-over from May 2011 – continuing a 12-month trend of increased year-over sold units.
• Median days-on-market for single-family detached North County homes sold in North County decreased to 43 days in May 2012 compared to 51 days in April 2012.
All content by Gary Harmon.