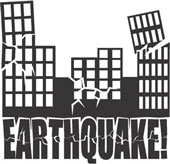 Everywhere in the Escondido real estate area may be susceptible to damage from an earthquake, maybe even a bigger one than hit this Easter. We all need to be ready. Here are some of the things we can do.
Identify earthquake hazards in your Escondido home. Secure everything around your Escondido property that might fall and hurt someone. This is easily done if you secure items as you buy them. For example, when I bought my big screen television, I secured it to the wall of my Escondido home with a safety wire. If you are starting from scratch, buy a stud finder at a North County Home Depot or Lowes and use it to find the proper studs. Of course, the water heater in the garage must have straps.
Create a disaster plan. Talk with each one in your family and plan what to do in case of an earthquake. Have a meeting place outside of your Escondido home, but close by so everyone can be quickly accounted for. Learn basic first aid if possible. Have a place away from your Escondido property you can call, preferably out of state. The out of state phone lines won't be as crowded. Learn how to deal with a lack of utilities and basic services. Also, expect aftershocks.
Make up some disaster supplies kits. These kits would be useful in any type of emergency. Everyone in your North County home should have one. It is a good idea to have one at home, school, work, etc. You should have a large kit for your home that would last everyone three days to a week. These kits should contain food, water, clothes, and sanitary supplies. Your San Diego Red Cross sells kits and also has tips on what to put in the kits if you make your own.
Have your Escondido property checked to identify any weaknesses. There are common issues that a home inspector will know that could help your North County home be stronger. If you just purchase a North County home, your Escondido real estate inspector will have made sure you had earthquake straps.
During an Earthquake you should drop, cover and hold on. Drop to the floor, take cover under a strong table or desk, and hold on firmly. If there are no tables close by, drop to the floor next to an interior wall of your Escondido home.
After the quake, check everything for damages or injuries. Always be calm and take care of yourself first so you will be available to help others. When you are sure you are safe, then you can start helping others. You need to know how to turn off leaking gas, water, or electricity if necessary.
When you know you are safe, you can continue to follow your disaster plan. Stay away from the coast if there is any possibility of a tsunami. Listen to your battery powered radio for any emergency instructions. The station would be 600 AM . Call your out of area contact and let them know you are OK.    Escondido real estate information, call Gary Harmon, a top Escondido Realtor.