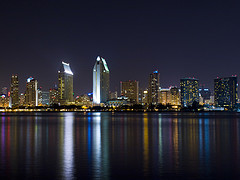 The State of California has passed a new credit for qualified first-time home buyers who buy a qualified principal residence from May 1, 2010 through the end of the year.  This would apply to almost all San Diego North County homes for sale.  Escondido homes or Encinitas homes can be mobile homes, manufactured homes, attached homes, condos, or even a houseboat.  Haven't seen many of those in San Diego North County.
To be a buyer eligible to buy these San Diego North County homes you must be a first-time buyer.  You or your spouse cannot have had an ownership interest in any home, anywhere, in the last 3 years.  You are not eligible if you used the 2009 new home tax credit or if you are under 18.
Applications for these credits are being accepted now by the State.  The State has set aside $100,000,000 for this program, but when the money runs out, so does the program.  It is strictly, first come, first serve.  It is estimated that the money will run out by the end of May.
If you want to get in on this great opportunity you had better get started.  Contact Gary Harmon, your top North County Realtor today.  For more information see California 2010 Tax Credit First Time Buyer.