Make sure you don't miss the advanced search tools available for free on my main website, www.HomeInfoSanDiego.com.   For instance, you can search for properties by Area, Map, Zip Code, or MLS Number. If you see a property that you like, click on its thumbnail picture or hit the View Details button to see additional photographs and a detailed description of the North County homes.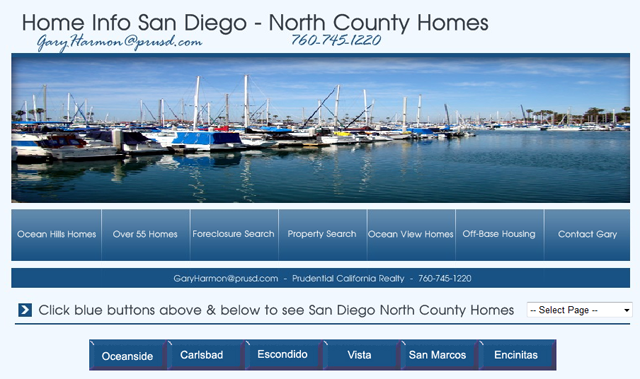 Buying a San Diego North County home can be overwhelming if you don't have a clear idea of what you're looking for. Do you want to live near the beach or inland?  Are you looking for a detached property or perhaps a condominium? How many bedrooms and bathrooms will you need? Once you've come up with a list of requirements, you can save time by saving your preferred search parameters.
On the Property Search page, make your selections for your preferred area, number of bedrooms, and other details, and select Save Search. At this point, you can choose a name for your search, such as "2 bedroom Rural Houses" or "Homes in the Downtown Area." Once you've named and saved your search, you can quickly access this search from the Saved Searches folder in your account, 24 hours a day. Every time you select a saved search, your pre-selected search criteria will be applied to the listings, and you'll see all the properties that match your criteria. This feature can be a real time saver, as you don't have to enter the information every time you want to look for homes.
Did you know that you can bookmark your favorite North County properties for quick viewing later? When you're looking at a property's Details page, you'll see a button that says Add to Favorites. Click the button, and that property will be instantly saved to your own hidden Favorites folder on the site.
If you'd also like to share listings with friends and family, just click Send to a Friend, and the listing details will be sent to their email inbox. If a paper version of the listing is more convenient, simply hit Print, and you'll be taken to a printer-friendly version of the listing details. On your browser, go to File and Print. Voila!
Are you looking for more information than just current property listings? Would you like to learn about North County neighborhoods in the San Diego North County market? HomeInfoSanDiego.com has tons of great information about market conditions, nearby amenities, local schools, and much more.  Just click on the blue community button of your choice at the top ot HomeInfoSanDiego.com.  Simply select the community or neighborhood you'd like to read more about.
Have you spotted any San Diego North county listings you like? If so, you can easily arrange to view it in person by clicking Request a Showing from a property's Details page. You'll be taken to a brief form where you can post your preferred dates and times, or ask questions about the property. I'll be in contact with you as soon as possible to schedule your tour!
See Current Listings of ALL San Diego North County homes now!  For more information, contact Gary Harmon, your top San Diego North County Realtor.